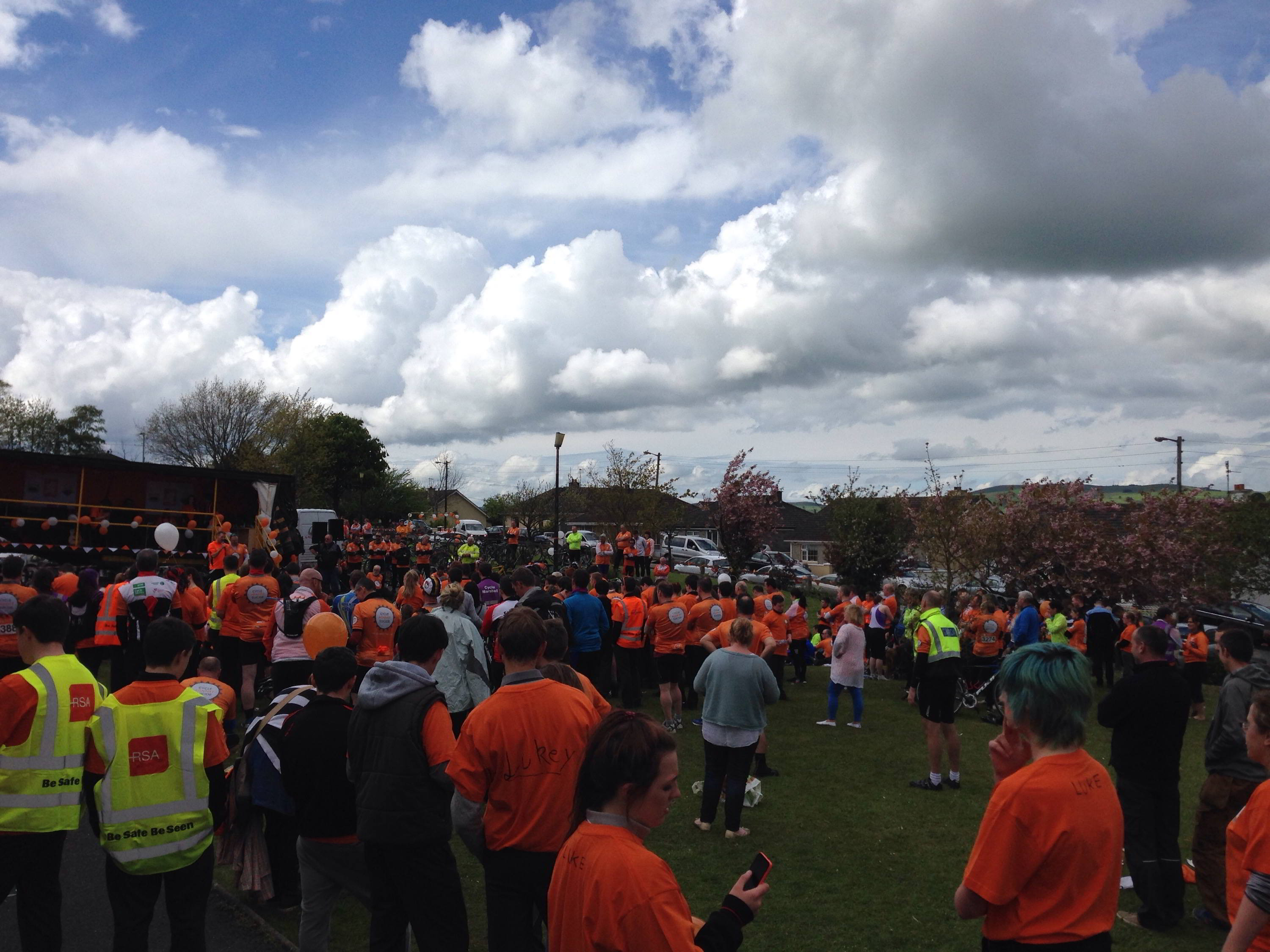 It's been a busy few days so apologies for lack of updates. 
Tuesday evening after finishing in Skibbereen I met my parents – dad is down to join the cycle, mum is providing support and enjoying being part of this big orange circus.  
Still in my cycling gear, I drove their car the long drive up to Mayo, finally arriving about 7 hours later including a snooze & food. The next evening at 7pm I was standing in front of a group of business owners, giving them training in website management and optimisation. They were very good to me and let me head off a bit early – I was out the door and on the road at 9.40pm, at least half an hour earlier than I expected. I arrived at Jury's in Cork at 2am and had a really good 5 hour sleep before getting ready for Cork to Clonmel with Anne-Marie and her friend Melissa who were both starting & going on to Dublin. 
All the talk the next morning was how easy the previous day had been – it was the shortest day on our schedule, they had good weather and a massive tail wind. Pity to miss it, but I'm delighted we had a good day, we deserved one. 
Cork to Clonmel was a long spin and the pace car seemed to have upped the ante. I could see folks struggling with it and tried to help directly where I could or – more often – steer some of the stronger cyclists towards them. We stopped at the hotel on the outskirts in Clonmel for a photo op, a lot of folks thought it was the finish and several who were staying in the hotel decided to call it a day there. It was a mostly dry day and we finished up at the Hillview Sports Club with refreshments a 2 minute walk away at the Loretto. Also a rare non-climbing finish!
Yesterday was horrible. The conditions were nasty at the start with a constant rain making preparations unpleasant. We also had the biggest numbers of students on the whole trip – 160 from six different schools – so getting them prepared and their bikes checked out took an extra 15 minutes with everyone standing in the rain wondering what was going on (I knew from overhearing a marshal's radio). 
On the road there was a nasty headwind hitting us and the initial climbs out of Clonmel were not pleasant. The students who had started en masse at the front were almost immediately spread throughout the peloton. Even on the flat we were crawling along around 13-14km/h and a lot of the youngsters were even struggling with that. I was near the back helping a girl called Marguerite who was on a mountain bike. She was finding the headwind tough but was spinning the legs well despite that. There were people stopped at the side every kilometre or so, and the sweeping marshals behind me shouted up that the 53 seater bus had only 6 seats left. 
We got into Cashel for our Sos Beag and the emergency foil blankets were out in force. I went into a bistro at get my water bottle filled with hot water – something I do whenever possible in the cold days, a literal hot water bottle to warm up cold hands or stick down your jersey. 
Inside the bistro I noticed soup for sale but I had left my wallet with the bike – I had €3 instead of the required €4.50 so I asked the guy behind the counter could I have half a bowl for three quid. 
"For you, Alastair, it's on the house!" What? How does this guy know me?
Turns out this was a guy who I shouted a warning to a previous day when someone stopped suddenly in front of him. He avoided the crash and thanked me – and now here was karma in direct action. 
Back on the road we had left a lot of folks at Cashel abdvutvwascacsimilar struggle at slow pace to our stop in Thurles. I felt so sorry for the school there, they had a massive carnival themed display ready that was completely rain off. Pity to miss the stilt walkers. 
Inside was carnage. Everyone in foil blankets and very cold. Word passed down that we might be cancelling the post lunch spin to Portlaoise, and that's what happened. 
I was talking to Breffni – pedaltheplanet.tv – and he said he had to cycle on for his around the world challenge, so he was going on alone. I decided to go with him, it wasn't a nice day to go alone. 
After about 15 or 20km toward Portlaoise by ourselves we stopped for a cup of tea and just as we got going again we were caught by a larger group of 8. The spin to Portlaoise was fast and enjoyable with the group!